Cowgirl Recipes
These are some of my favorite recipes. I am not an adventurous cook, and I usually stick to my tried and true "good ones". Whenever there's a potluck dinner, a special occasion, or I've just got a hankering for something yummy, these are the foods I make:
---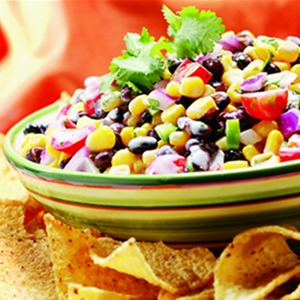 Cowboy Salsa
1 can diced Rotel tomatoes
1 can black beans, drained
1 can kernel corn, drained
1 c. quartered cherry tomatoes
1/2 c. chopped red onion
2 T. fresh cilantro leaves, chopped
1/2 t. salt
1 juiced lime
Toss together in a bowl, refrigerate. Serve with tortilla chips. Leftovers can be stored in the refrigerator for several days.
---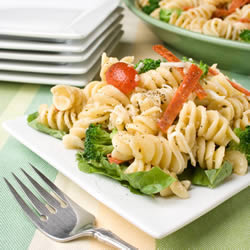 Pasta Salad
1 pkg rotini noodles
2 cups broccoli, cut into small florets
2 cups cauliflower, cut into small florets
1 cup celery, chopped
1 green pepper, chopped
3 or 4 green onions, chopped or sliced
5 or 6 baby carrots, sliced the long way or shredded
1 cup cherry tomatoes
1 cup chopped cucumber
1 sweet red pepper, chopped
1 cup cubed cheddar cheese
1 bottle Ranch dressing, or your favorite dressing
Boil water in a large saucepan; it helps to add a drop of olive oil to the water, to keep the pasta from sticking together. Add pasta when the water is boiling, stir a few times, cook until noodles are al dente or as soft as you like them. Drain the water off, cover the pasta in cold water until the rest of the ingredients are ready to add.
Cut up all the veggies, add anything you like to the mix, this salad is very versatile. Leave out whatever you don't like. I don't put radishes in mine, because though they are fine the first time you serve it, they give the whole salad a bitter taste when stored in the refrigerator overnight.
Mix pasta, veggies, and salad dressing together. Refrigerate and serve cold. This is my favorite summer recipe.
---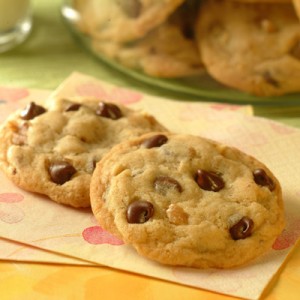 Chocolate Chip Cookies
1 cup butter
3/4 cup sugar
3/4 cup brown sugar
2 teaspoons vanilla
2 eggs
2 1/4 cups flour
1 teaspoon baking soda
1/2 teaspoon salt
1 cup chocolate chips
Melt butter in the microwave. Stir in sugars, vanilla, and eggs. Add dry ingredients, stir until blended. Drop on cookie sheet, bake at 350 degrees for 8 to 10 minutes.
---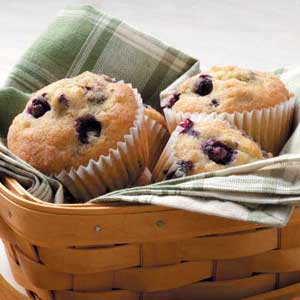 Blueberry Muffins
1/2 cup butter, softened
1 cup sugar
2 eggs
1/2 cup milk
1 teaspoon vanilla
2 cups flour
2 teaspoons baking powder
1/2 teaspoon salt
2 cups fresh or frozen blueberries
1 tablespoon sugar
1/4 teaspoon ground cinnamon
Soften butter in microwave. Add sugar and stir to dissolve. Add eggs, milk, and vanilla, and beat until mixture looks slightly curdled. Stir in dry ingredients and berries just until batter is still lumpy but completely moistened.
Spoon batter into muffin cups, either sixteen regular sized cups or six large cups. Use paper liners if desired, or coat cups with butter before filling. Combine the sugar and cinnamon and sprinkle over top of filled muffin cups.
Bake at 350 degrees 25-30 minutes for regular size muffins, or 35-40 minutes for large size muffins. When tops are golden and slightly firm to touch, remove from oven and set on wire rack to cool for a minute. Use a butter knife to run around edges of each cup, then lift from pan and set on wire rack to cool.
You can substitute chocolate chips or any kind of berries, fruit, or nuts instead of the blueberries.
---