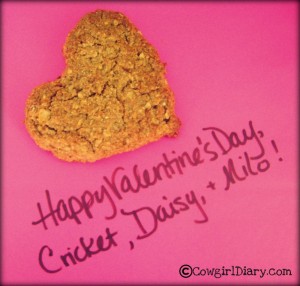 I'm baking treats today, in honor of Valentine's Day, and I'm baking them for my horses! I've actually never made homemade treats for horses before, but a reader commented over on my Cowgirl Recipes page and requested some recipes for making your own horse treats. Having read several horse treat recipes online, I went to the kitchen to see what I had on hand, and made up my very own kind of heart-shaped horse cookie. They turned out great, and my horses loved them! Here's the recipe so you can share some love with your equine friends this Valentine's day!
Valentine Heart Horse Treats
Ingredients:
2 c. whole wheat graham flour
1 c. oatmeal
1/2 c. brown sugar
2 T. sugar
3 T. corn syrup
1/4 c. vegetable oil
1 t. salt
1 pear, finely chopped
Directions:
Mix all ingredients together. Add more flour if mixture is too sticky. Spoon onto cookie sheet and press into heart shapes by hand. Bake at 375 degrees for 30 minutes. Makes 6 large or 12 small horse treats.
Photos: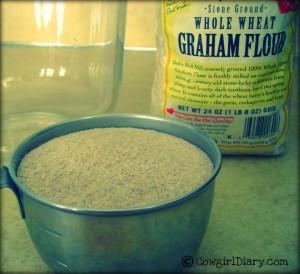 I used this whole wheat graham flour because it's something I didn't really want to save for normal baking (we're kind of picky eaters and not used to whole wheat–even though it is more healthy).  If you don't have whole wheat flour, you can use white flour or whatever you have in your kitchen.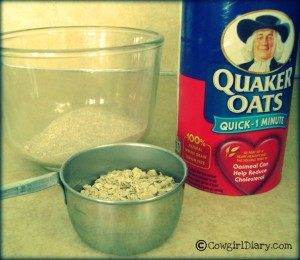 For oatmeal, this is what I used…you could substitute any kind of whole grains with good results.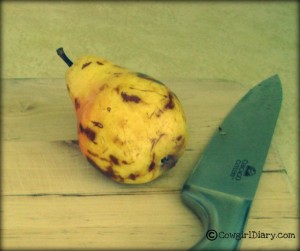 I used a pear in my horse cookie recipe because it was the only fruit I had that my kids weren't going to eat.  This pear was a little too dinged up for my daughter's taste, but I don't think the horses will mind at all.  The pear flavoring in these cookies make them delicious (yes, I ate one!)  You could substitute an apple, carrot, or anything else horses like.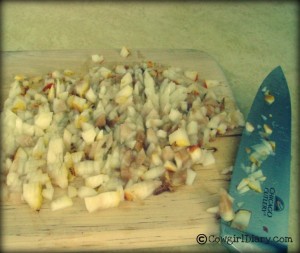 Dice the pear into fine chunks so your cookies don't turn out too crumbly.  If you're using a carrot instead, shred it or process it in a food processor before adding to your mix.

With everything mixed together in the bowl, test the dough for stickiness and add more flour or oatmeal if necessary.  You want it to hold together and start to form a ball when stirred, not stick to the edges of the bowl or spatula.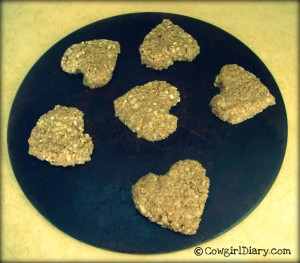 I used a large spoon to scoop the mixture onto my baking stone, then formed heart shapes with my hands.  It held together well and didn't stick to my fingers too badly.  You could make flattened circles, or any shape you like.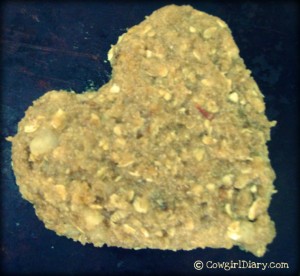 This is what the cookie looked like before baking.  They didn't spread out or lose their shape at all, while in the oven, so you can place them as close together as you like, they don't run or smear into each other.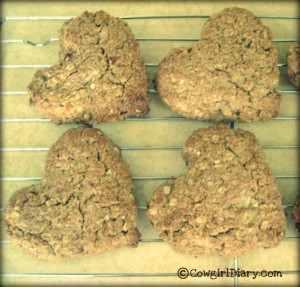 I baked them at 375 degrees for 30 minutes, checking on them once in awhile to see if they were done or not.  These had started to brown around the edges, and felt crunchy and hard to the touch.  The inside was still softer, but baked through.  I put them on a wire rack to cool.
Daisy rolled her eyes at first…she wasn't sure what I was offering her, but then she took a nibble. Then everyone wanted to try them. Cricket ate three of them! She loved them.  My horses aren't used to getting treats, though I have gotten some free Whinnie's Cookies by mail to try, and they liked those.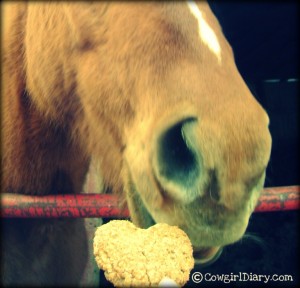 These horse cookies were so easy to make, and out of ingredients I was going to probably throw away anyway, I think I'll make them again soon.  Many of the recipes I looked at included grain, barley, bran, carrots, peppermints, and even maple syrup.   Don't use peanuts or other nuts, but grains should be fine.  I think as long as it's edible and tasty, you can go ahead and throw it in.   Enjoy sharing this treat with your ponies!