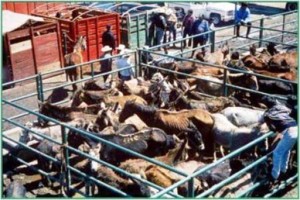 I went to the cattle auction last Saturday. This isn't a quality auction, it's a ramshackle type of barn in our podunk county where the local farmers hang out on the weekend to watch stuff sell. You'll see everything go through the ring—chickens, eggs, piglets, goats, sheep, and occasionally a horse, before the cattle start to sell.
I only went because my husband had heard the sale report the day before and they'd listed a kid broke pony as well as eight other horses. He has always thought we needed a pony for the kids, and since he was busy working on a construction project with his dad, the kids and I went to the auction. We had in mind how much we would spend for the right pony, and I'd made a promise to not bring home any more horses….ha ha.
The kids enjoyed watching the baby goats come into the ring and of course begged me to buy them. I had to admit they were cute, but the last thing on earth that we need at our place! The usual array of animals came through, and then the first horse.
She was a decent-sized bay mare that had been severely neglected at best. Her bones stuck out all over, and she was worried and wall-eyed, pacing the ring and looking for a way out. The auctioneer started at about one hundred dollars, and everyone just shook their heads. Then the mare turned and tried to pass manure, and it looked like she had either prolapsed or something was really messed up, because she was blocked up and couldn't go. Several gasps could be heard from the crowd, and the bidding went down to five dollars, and she was ushered on out of the ring, no-saled.
The next horse was a loud colored paint in the same skinny condition. The auctioneer tried to talk her up, by saying, "Now here's a nice paint!" I wanted to slap him, since I know he fancies himself somewhat of a horseman and knows better than that. But as she turned this way and that in the ring, on her sides there were pink scratches like she had either had incisions that were still healing or she had been badly scratched up and down her sides. All the signs of neglect and abuse were there—the overgrown hooves, skinny neck, sunken withers, and frantic behavior. She too went down to five dollars without a bid, and wobbled on out of the ring.
Then a gray foal came in, and I heard a girl behind me say, "Oh, he's cute." It was spoken too soon, for other than his silver color and large white star on his forehead, he had nothing going for him. He was obviously much older than a foal, the auctioneer said two years old, and had been starved so that he was the size of a small weanling. His legs didn't look good at all, and he looked so sad and bewildered. Again, there was not one bid. I heard the auctioneer say, "These horses will have to go home." In other words, he would not buy them from the owner to try to auction them off at the next sale, like he might have if there had been any worth to them at all.
The pony was led in, and looked docile enough, but smaller than a large dog, and I refuse to buy a miniature. I just worry a lot about saddle fit and how the kids are going to stay on something that is so tiny you can't tell where it is under the saddle. My kids thought he was exactly what we wanted, of course, but I told them he was just too little, and we would keep looking for the right pony. The pony sold for $90.
The next horse was a really pretty black gelding, tall and well built and he had seen a better life than the first three. They claimed he was well broke and a good using horse, and he seemed really quiet. But he stood there, unmoving, despite a few attempts by the ringmen to get him to move, and I just thought there was probably something bad about his feet, he was so reluctant to move. Other than that, he was a good looking horse. I just couldn't figure out why he wasn't shown by the owner if he was rideable, and why he was still wearing cockleburrs in his mane. He sold for $45, and it was hard to keep quiet. A local trainer bought him, probably to clean up and re-sell, and he will most likely do pretty well for the money he spent. Unless, like I suspected, there was something wrong with his feet.
The last horse was a bay gelding, also well broke and gentle. He too had burrs all through his mane and was pretty ugly, and sold for the same amount to the same buyer. From there, they went to selling cattle, so we packed up and left.
When I got home and told my husband, he said I probably should have bought the skinny ones. I wanted to buy them out of pity, but they really needed to just be put down, and I know we can't afford the costs involved with that. A well-placed bullet would be the best option, but I have always wondered if it came down to it, would I be able to pull the trigger?
See, I love horses just as much as the next horse crazy girl. But the stupidity of the slaughter issue has caused these horses to be put through more prolonged agony and horrible conditions than they would have ever experienced if the processing plants hadn't been shut down. In the old days of legal slaughter, even the worst horse was still worth a couple hundred dollars, its body would have been useful in some way, and the whole economy surrounding horses was better off. Now it is a huge liability to even own a horse, because sooner or later it is going to become un-useful, and it will take more money than it's worth to put it down and find a way to dispose of the body.
I am ashamed of the people who brought these horses to the sale. I wanted to look them up and report them for abuse. But this sort of thing goes on all the time in our corner of the country, and there's no easy fix for it. I can only hope the next generation of horse owners is not so stupid. And I told my kids on the way home that if you own an animal, it is your responsibility to care for it and make sure that it has everything it needs. It's a sad reality that there is no conscience in people anymore, to let animals live in that condition.