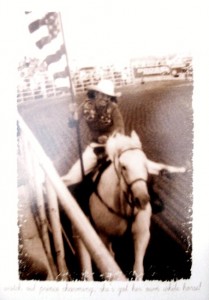 "Some women moved west reluctantly, some were drawn by new opportunities, but all were transformed by the journey." –Unknown
I read that quote today on the Facebook wall of Lil' Red Roan, an online western boutique that sells handmade picture frames, leather art, cowgirl jewelry, western note cards, and more. I love the Love Letters from the West note card line, and used one of her photos for this post. The caption reads: "Watch out, Prince Charming. She's got her own white horse!"
Anyway, the quote got me thinking about what it takes to be a cowgirl and what qualities are possessed by women who love horses. When I started this blog, I made the disclaimer that while I call myself a cowgirl, I don't really want to label myself with the swagger or belligerence that the name sometimes exudes. I don't cuss at my horses, chew tobacco, wear spurs and a wild rag, or rodeo every weekend. So why am I a cowgirl?
I love horses, that's the main thing. And then there is a toughness that comes with it, so that I don't go crying to fetch a manicure kit when I break a nail cinching up, I just chew off the jagged part, spit it out, and go on with the ride. Or if the skin gets ripped off my hands because I'm trying to teach a horse to lunge and forgot to wear gloves, it's really no big deal. It just comes with the territory, you've got to care more about the job you're doing with the horse than you care about avoiding pain or getting dirty.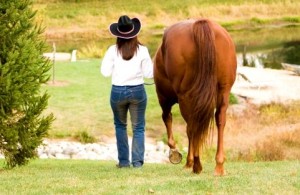 A cowgirl is more concerned that her horse is outfitted correctly than if she looks good herself. If you can't brush the mud off your horse because you might get some on your clothes, then there's a problem. If you're scared to bridle your own horse because sticking your thumb in a green-slimed mouth disgusts you, you just aren't cut out to be around horses. Having a true passion for horses overrides all other instincts, and a real cowgirl doesn't think twice about the sweat, flies, manure, and slobber that accompanies the horse. I got a kick out of this photo I found in a friend's album–this is what I call "bareback butt", when you slide off the horse and have a ring of sweat and horsehair on the back of your jeans. That's what being a cowgirl is all about.
I think it's something you're born with. And whether your first ride is at six months old, like mine was, or whether you decide to buy a horse after you're retired and looking for a hobby you've always wanted but never had…the horse thing is something that's so strong you can't ignore it. Horses give you a reason to wake up in the morning, a reason to get outside and breathe in nature, and a power to look past the small stuff and realize all you've accomplished that you can be proud of.
Having horses in your life often means working through the sweat, manure, and frustrations of training that sometimes seem overwhelming. But the journey will transform you if you let it.