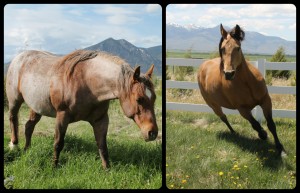 These two AQHA mares are being offered for sale, located at my dad's place in Challis, Idaho.  They have been raised, trained, and ridden on his ranch, sometimes used to work cattle and sometimes for recreational riding.  Dad retired a year ago, sold the cattle and the ranch, and dispersed of most of the horses.  He planned to keep these two mares, since they were young and rideable, and he thought they would be used when grandkids came to visit as well as his yearly horseback elk hunts.
A few months ago, my parents had dinner guests of a visiting preacher and his family.  After Sunday dinner, they thought it would be fun to go on a horse ride, and so Dad saddled up the two mares.  He was riding the buckskin, and giving the guests turns on the roan mare.  The roan was acting flighty and full of energy, so he dallied up and ponied her from his horse.  The preacher's wife was riding the roan, and as they rode down the gravel road a ways, the roan sort of bolted and jumped out ahead of Dad's horse, and I guess he wasn't cinched tight enough because his saddle turned, the buckskin mare sidestepped from the sideways pressure of the saddle being off, and both Dad and the preacher's wife fell off.  Now, my dad is seventy-three and has some previously broken ribs from a mule bucking him off a few years back, and when these mares acted up, he just decided he was done playing cowboy.  He is selling both the mares.
In their defense, I don't believe either mare bucked.  It was more of a plunging forward or sidestepping motion that threw their riders, one of whom was a total beginner and the other in his seventies.  Both mares have been ridden quite a bit and if legged up and being used more often than every couple of months, neither would pose a problem.  They are very well-bred, with working cowhorse bloodlines, and are great ranch type horses who could excel at almost any work you put them to.
2006 AQHA Red Roan Mare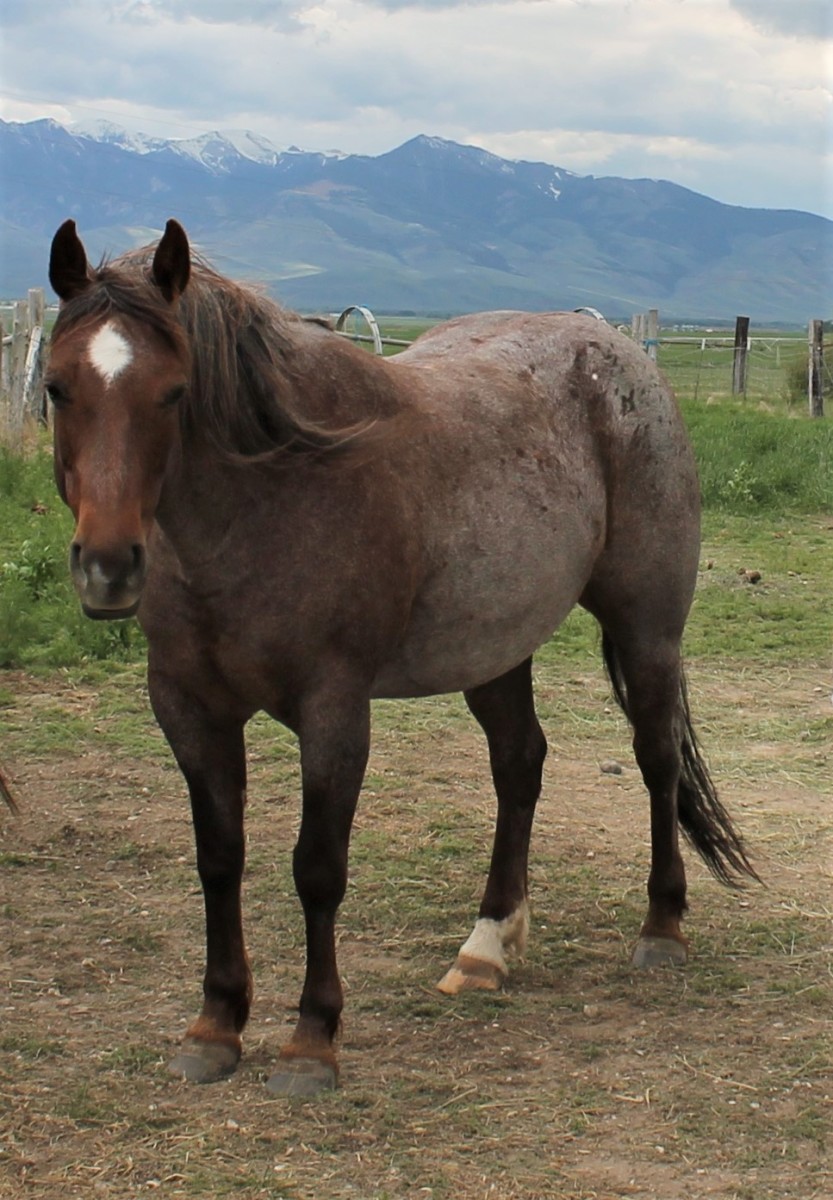 "Ruby Red" was a horse Dad acquired when she was a three year old and she was greenbroke then.  My sister Karmen rode her quite a bit, as well as my other sisters.  She has been used to push cows and calves up Pass Creek in the spring (a good ten mile drive through very rough terrain).  She has been ridden for joyrides around the ranch.  She does not neck rein yet, but is light mouthed and responsive.  She has foaled both horses and mules, and is a very gentle mare, comes right to you out in a pasture, loves people.  She has never been pushed hard or worked excessively, is 100% sound and healthy.  DNA testing for AQHA is done, but I don't think the 5-panel test was done.  I don't believe she has any vices, she's an easygoing mare, has not been stalled or hauled or used a whole lot.  Has very good bloodlines, and is priced at $3000.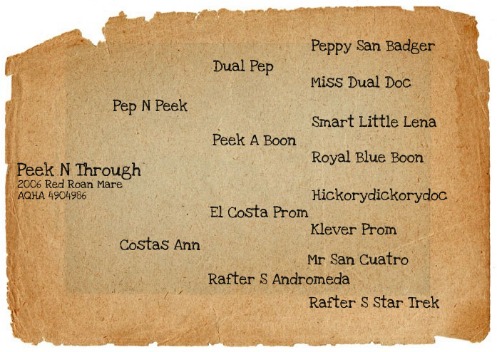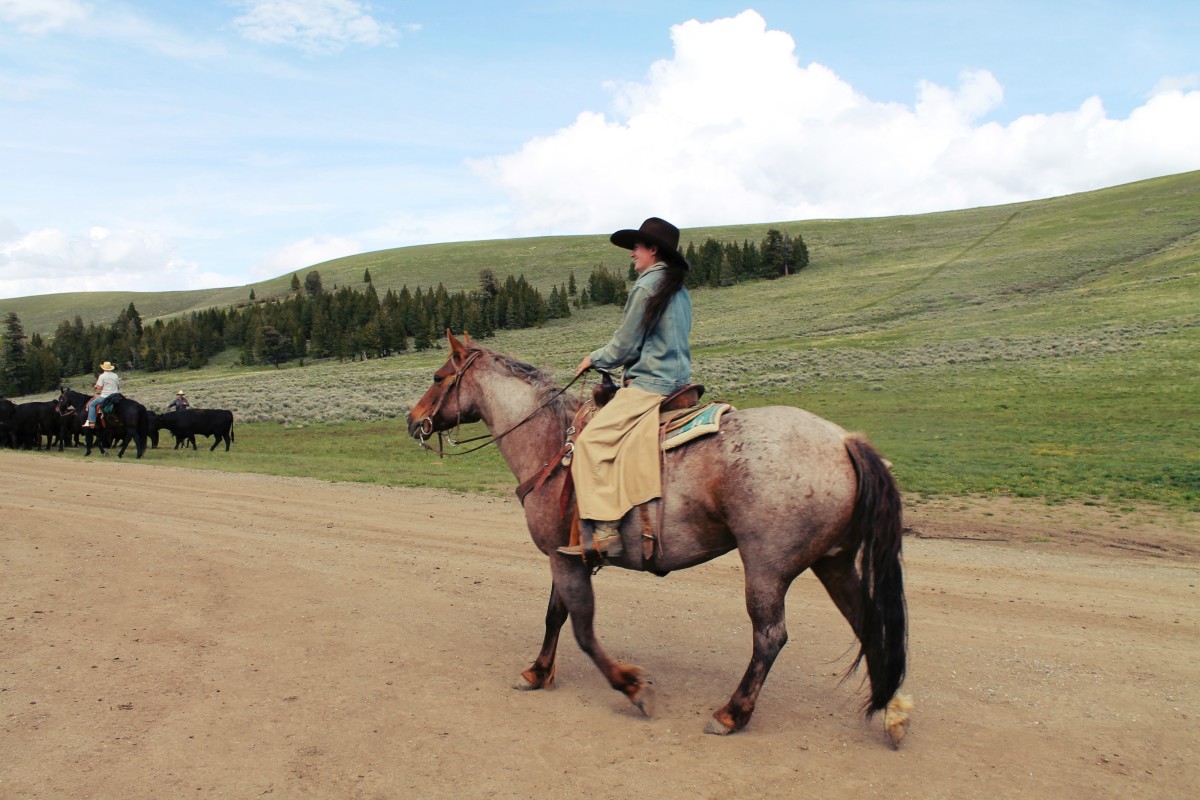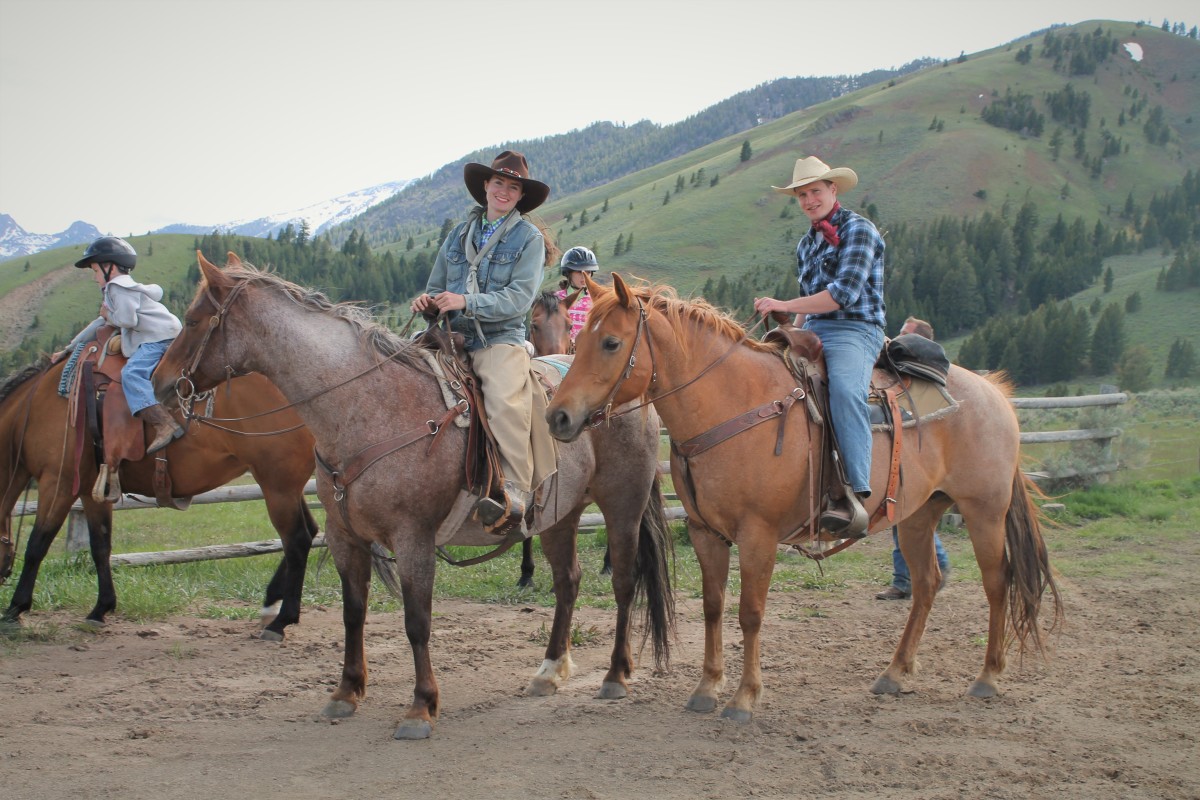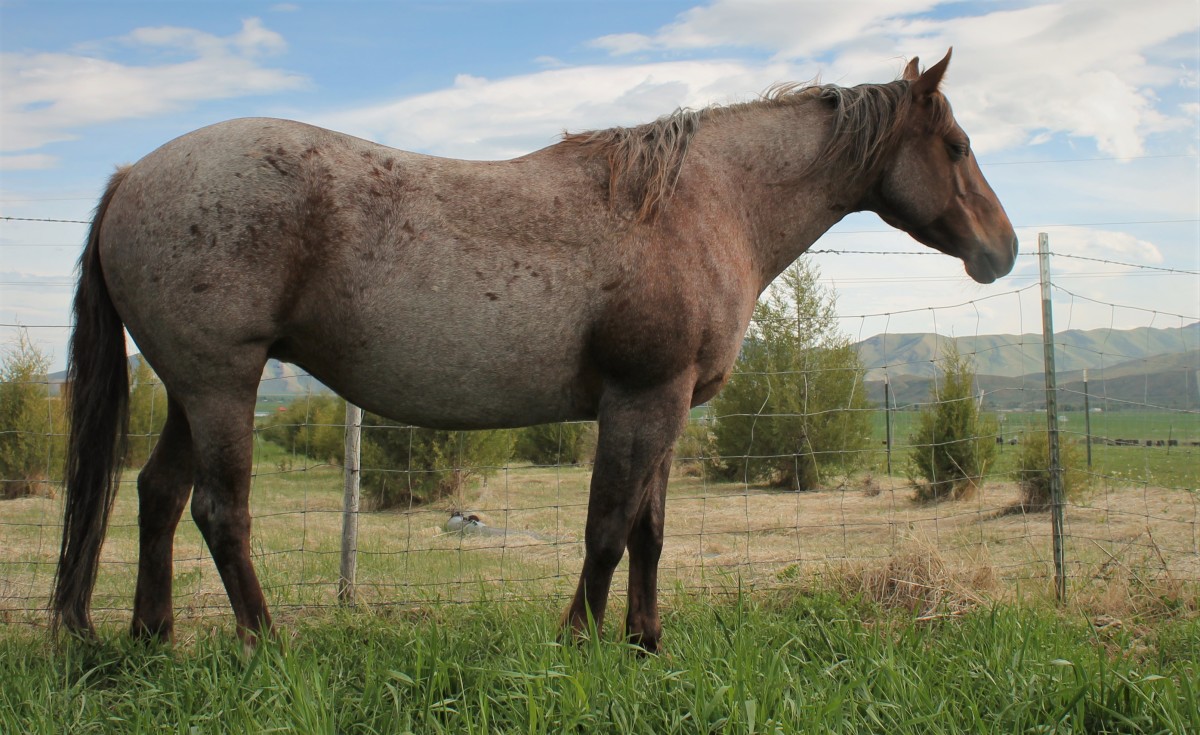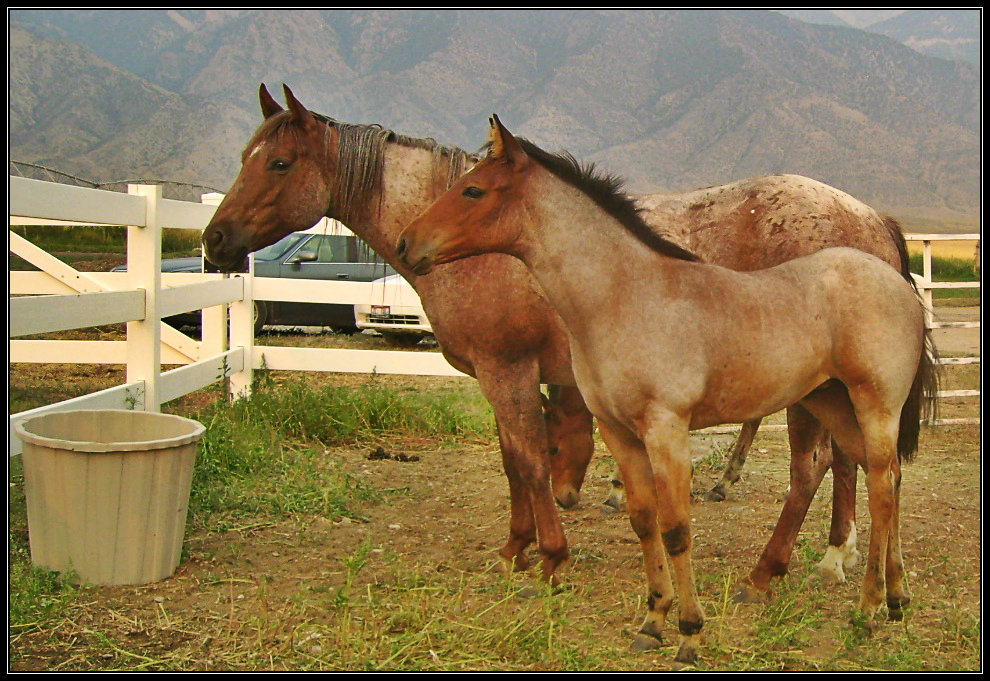 Pictured with her 2012 bay roan filly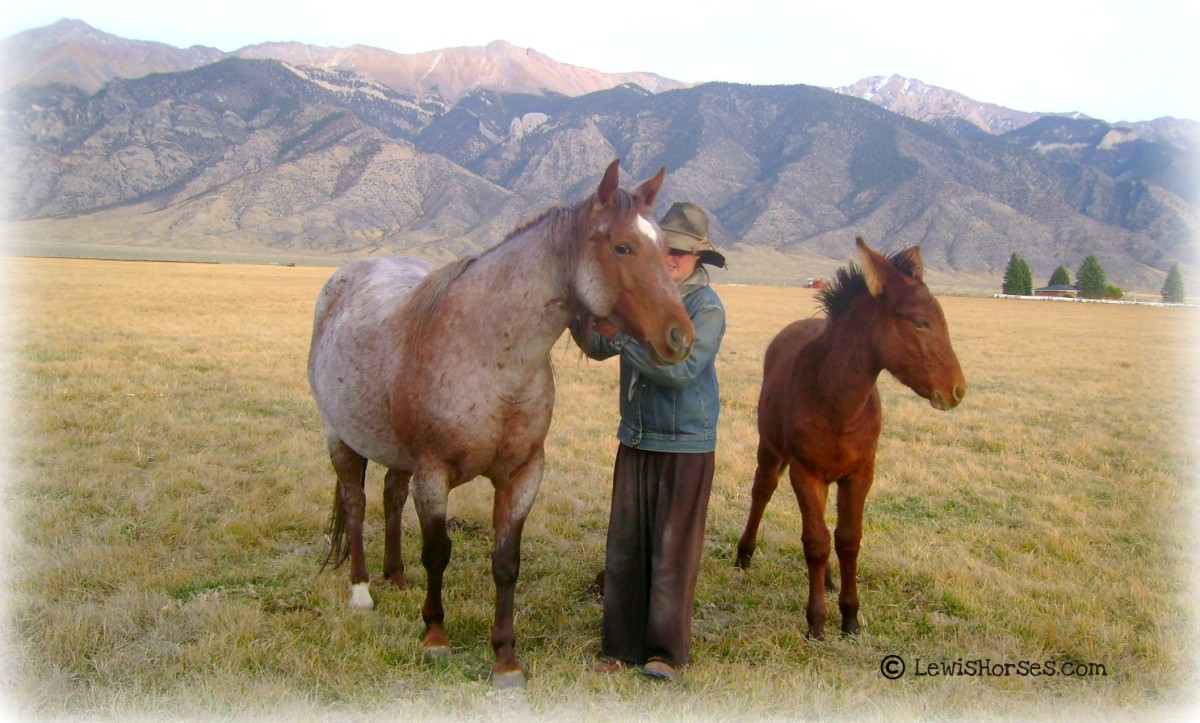 Pictured with her 2013 bay mule baby
2010 AQHA Buckskin Mare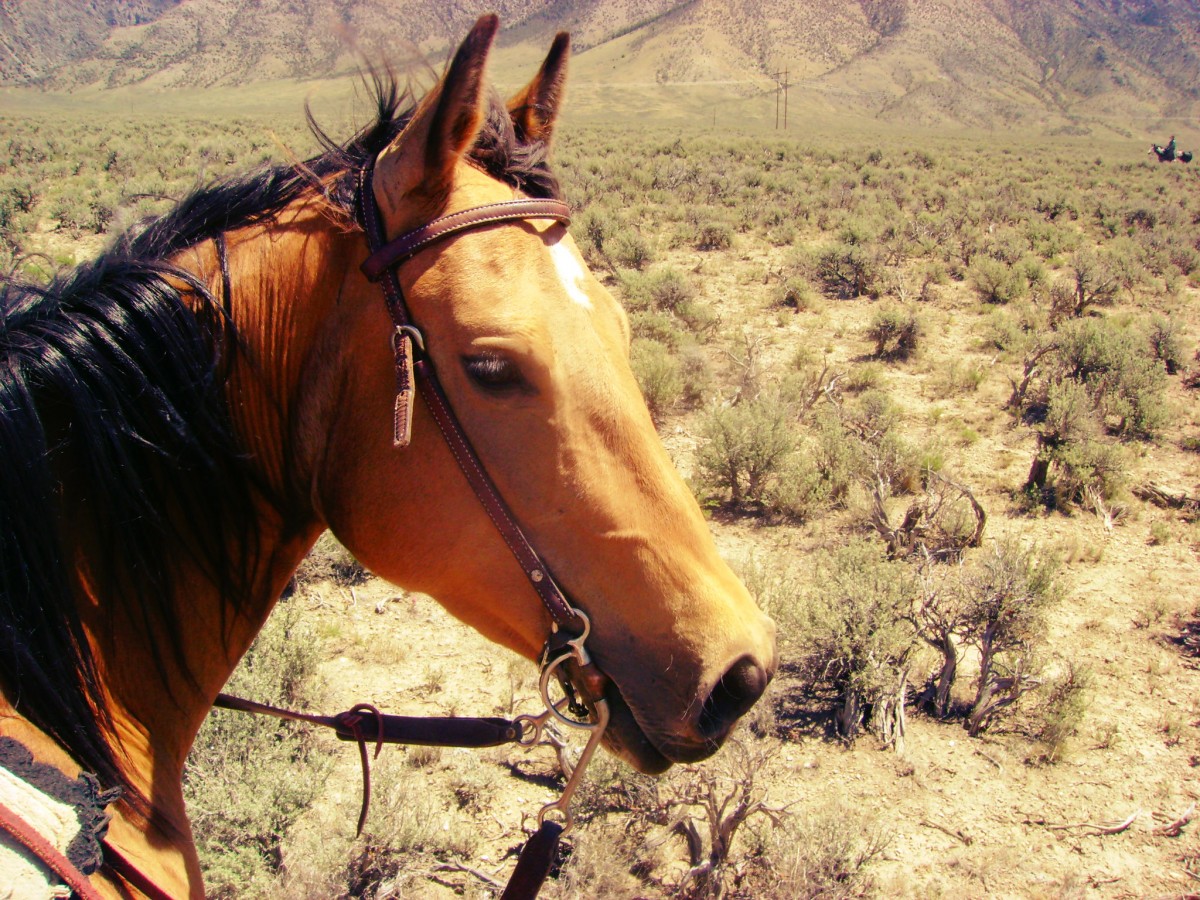 "Donegal" was raised as a foal, out of another good riding mare Dad owned, and our buckskin stallion, Docs Cold Cash.  As a three year old, she spent a month with Kurtis Koeppen of Challis, Idaho, who put a lot of miles on her in the mountains and working cattle.  Since then, she has been Dad's main riding horse, and he used her a lot for moving cattle, rounding up, checking fences, and everything ranch-related.  She has always had a lot of energy and work ethic, and the trainer advised that she would not be one to slow down much or be a children's horse.  Dad would often lead her from the pickup at a trot to get some of the edge off before riding her.  She did not buck if you got on without lunging or exercising her first, but just had so much "go" it was intimidating to ride her.  I rode her myself to round up one cold morning last January, and she was very "hot", but would drop her head to the rein pressure and never did get out of control or try to run off or buck.  She just has a very big motor.  Neck reins nicely, gentle, ties and trailer loads great, good for farrier work and has been shod in the past.  Never been bred, used for a ranch horse her whole life.  Might excel at speed events, barrel racing, roping, anything that requires fast work.  Priced at $3500.