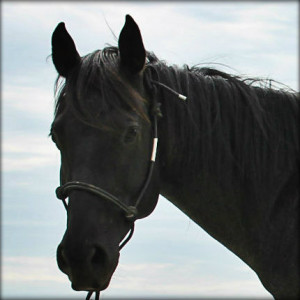 I love that old song my grandma used to sing, "Pack up all my care and woe, here I go, singin' low…. Bye, Bye, Blackbird."  Well, in this case, it's Bluebird we said goodbye to.  If you recall, she's the blue roan Hancock-bred mare that my sister gave me that we had shipped here from Idaho two Aprils ago.  I finally decided to list her for sale this summer, and within a week I had several inquiries and one serious buyer.  The plan was to be able to pay my sister back the original purchase price of the mare that she had paid at the production sale when the mare was a yearling, and then have enough left over to recoup the cost of shipping her out here to Iowa and having her trained.
I was actually in the grocery store with my husband and four kids when I got the text: "Interested in your mare for sale.  When is a good time for me to call you and ask a few questions about her?"  I called the number immediately, even though grocery shopping is probably one of the most hectic times I can think of, and answered a series of questions for a girl named Kelsie.  I could tell by the questions she asked that I was dealing with a good horse owner; she asked about Bluebird's history, health, manners, and everything else a buyer might want to know.  At the end of the call, we agreed to meet the next evening at our farm, and Kelsie said she would like to ride Bluebird.
Well, that motivated me a little.  See, we had sent Bluebird to the trainer last fall, where she spent almost two months under saddle and came home with a good start to her riding education.  But then she sat all winter and I didn't even saddle her up…I was pregnant with our fourth child, and delivered in April but hadn't spent any time with the horses all winter and spring.  All of a sudden, we have a buyer wanting to come ride her, but we have never ridden her or even seen her being ridden to know for sure how broke she is.  The last thing I wanted was to have someone come ride her, get bucked off or run away with, and end up with a law suit and a bad horse I can't sell!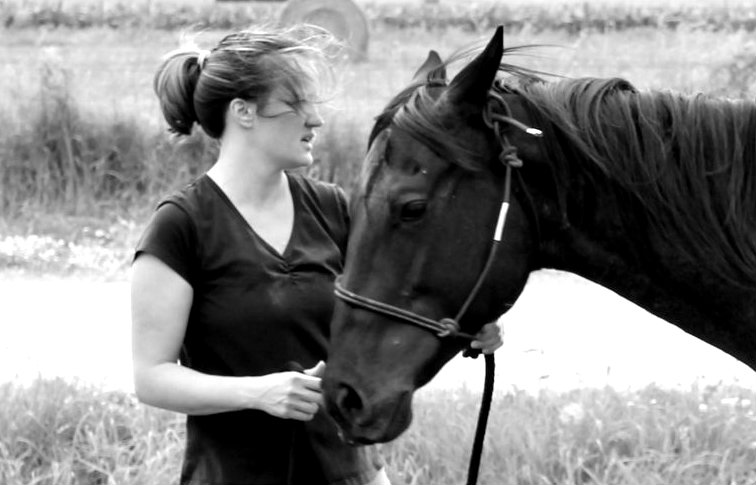 So that night we went out to the farm, with the intent to at least saddle her up and see how she acted.  I put her in the round pen with the saddle on, and asked her to free lunge for a bit.  I figured if she had any buck in her it would evidence itself when she cantered with flopping stirrups.  She didn't pay any attention to the saddle, and just loped out happily with no sign of bucking or spooking.  So after a few minutes I thought, "Well, I'll see if she'll let me put a bridle on her."  I remembered the trainer said she was really hard to bridle at first, and I wasn't sure how well he had worked through the issue with her.  So I offered her the bridle and she took the bit just fine and stood willingly like any old broke horse would.
So I asked my husband, who was working nearby in the sweet corn patch, if he thought it would be okay for me to get on her.  He said to just do whatever I thought was best, meaning he didn't want me to get hurt but figured I was going to go ahead and try to ride her whether he thought I should or not.  I stepped into the stirrup and leaned over the saddle, patting Bluebird on the off side and along her neck and hips.  She just stood there like she didn't have a care in the world.  So after awhile I swung on and asked her to walk in a circle.  She did everything I asked, very calmly, and without much hesitation.  I was really happy I finally got to ride her!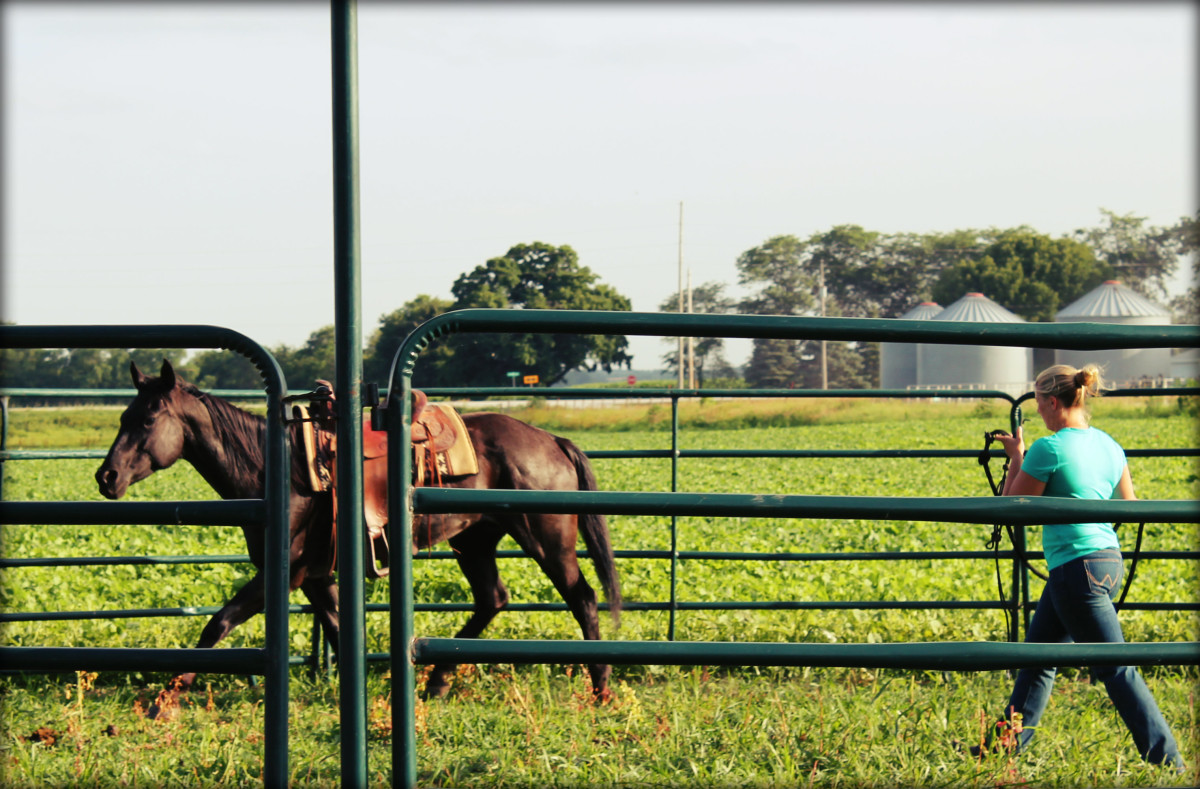 The next evening, when Kelsie got to the farm, I told her about the ride and said that I was hoping she would behave the same way once Kelsie was on her.  She seemed very confident with her riding ability, and gladly signed a liability waiver in case she got hurt.  She did a little groundwork with the mare first, and then rode her with the same results I had seen the night before.  Bluebird was calm, willing, responsive, and really easygoing.  So I asked Kelsie if she wanted to ride down the gravel road, and I would go along on my mare Daisy.  I caught up Daisy, who hadn't been ridden in about 9 months, and hopped on bareback to walk down the road.  Bluebird followed along happily, as if she had done this sort of thing every day.  We went down through a neighboring alfalfa field for a ways, and got along very well.  It was a quiet, pleasant ride…not something you can take for granted when you're riding a horse in the open for the first time!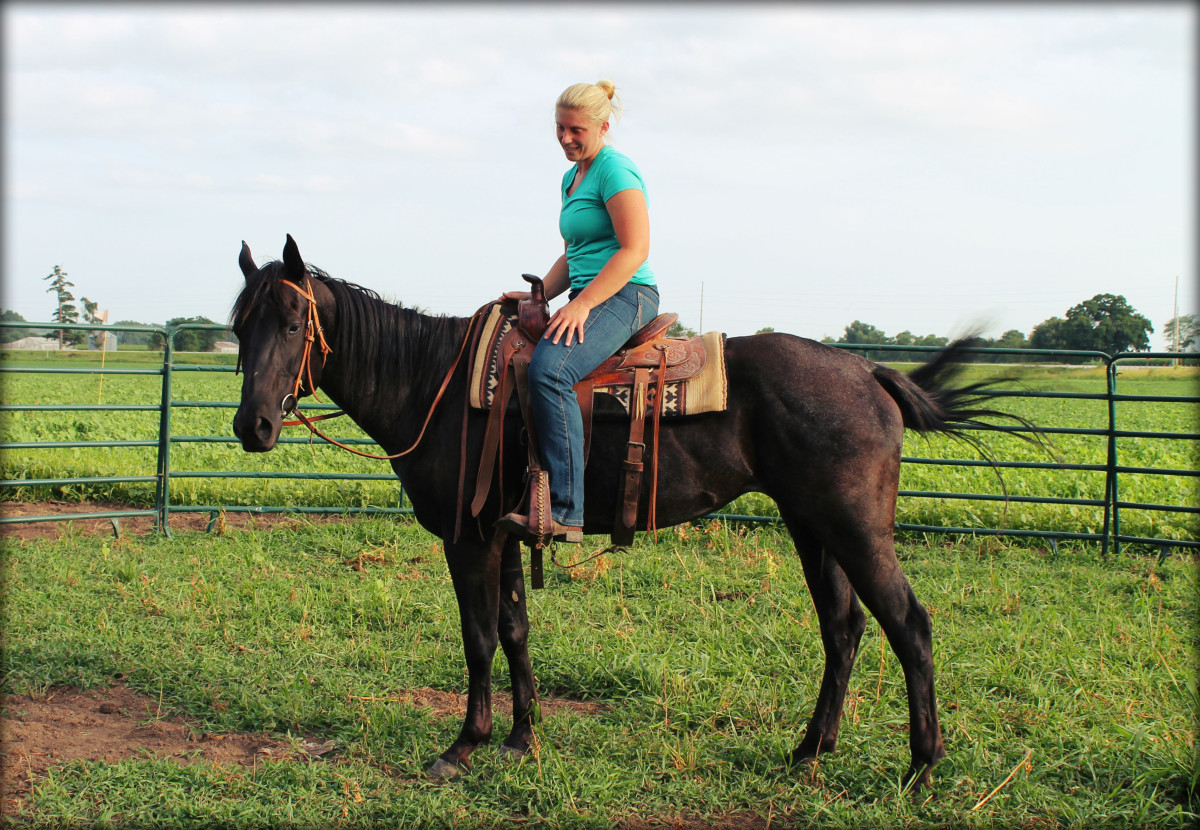 When we got back to the barn, Kelsie was beaming.  She said, "This is the most laid-back greenbroke horse I have ever ridden!"  I could tell she was pretty much already sold on the horse, but she said she would go home and call her fiance (who is deployed, and who will probably be Bluebird's primary rider when he gets home), and give me a call the next day.  She called with an offer the next day, and we were both pretty happy with the whole agreement.
I am so thrilled that Bluebird will have a better home than I could give her.  For one, she was still on the thin side, having only been fed a grass round bale along with four other horses.  I had wanted to build her weight back up with grain, but that required separating her out from the other horses twice a day, and being pregnant and all I just didn't have the time.  Her new home is a big pasture with two other horses, and she will definitely thrive.  Plus, I know Kelsie will pamper her and have her back up to full weight and beautiful in no time.
As far as her training, Kelsie says they plan to send her to a trainer in the winter, just to get her more finished.  She will be fine for trail riding now, but they may want to move on to team penning and more advanced riding.  So that also makes me happy, knowing that I would never have been able to put enough riding on Bluebird, especially with three other horses I should be riding!
My sister insisted that Bluebird was a gift and I did not need to pay her back, but I didn't want to profit from her loss, and thought it was only fair to give her what she had spent on the mare.  My sister is planning her wedding for this fall, and I'm sure the money could be put to good use in some way.  I was happy to be able to pay her and still have money left over.  My husband says it is already designated to buy more hay bales.
I love owning horses, but acquiring more than I can ride and take care of is far too easy.  Now that our horse herd is down to four, the round bales last a bit longer, the horses don't quarrel quite so much, and I don't feel as bad about riding my old horses, since there isn't a new green one that needs riding.  Well, except for the buckskin gelding who hasn't been ridden since last winter, either!  Okay, that's next on the list:  we need to get Cletus going under saddle soon!