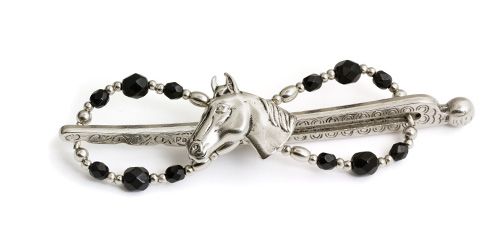 One of the really cool perks of blogging is the offer of horse-related merchandise to feature on my blog.  I recently received several items to review, and am ready to launch a series of giveaways here on CowgirlDiary!  Keep a close watch over the next couple of weeks, and I'll be telling you all about them and how you can win one of these great cowgirl accessories for your own. 
The first item I'd like to feature is a beautiful hair pin called the Flexi Clip by Lilla Rose.  This giveaway is sponsored by Holly Noble, a Lilla Rose Independent Consultant, who sent me a cowgirl style beaded hair clip in silver and black, with a silver horse head in the middle of it.  It's the perfect accent for any outfit, and can be used for a variety of styles.  The best thing about the Flexi Clip is that the design includes a slide-in pin that secures it, and the pin is built in to the clip so that it can't be lost.  In my busy household where things are scattered to the four winds, that feature is my favorite!
The Flexi Clip is also really comfortable, unlike elastic pony-tail holders or tight barrettes.  It is a figure-eight shape, with a sliding pin that secures it in your hair without pinching or pulling.  The clip comes in many different sizes, designed for the finest hair or as a mini-clip, up to an extra large clip that will hold a chignon or tucked under french braid.  I was really impressed with the versatility of the Flexi Clip, and with the helpful sizing and styling videos provided on their website.   I have already created several fun hairstyles with it, and want to try many more.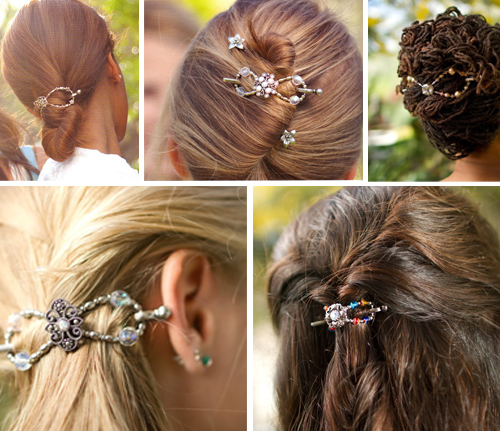 Holly has offered to sponsor a giveaway here on my blog, offering a lucky reader a free gift certificate for a Lilla Rose product.  In addition to the Flexi Clips, they also offer beautiful headbands, bobby pins, necklaces, earrings, and other beautiful jewelry.  You can view their broad array of products at LillaRose.biz.  The company offers in-home parties and consultant opportunities, and is a fun way to share your love of jewelry and all the latest accessories.  You can also visit Holly's facebook page to get the news firsthand about promotions, new products, and more giveaways like this one! 
To enter this contest for the Lilla Rose gift certificate, here's how:
Simply leave a comment on this blog post and you're entered in the drawing!  If you have a WordPress account, you can login using it; otherwise, you can easily register and comment.  If you have any questions on how to leave a comment, please contact me.  The contest is limited to residents of the United States and will remain open until next Monday, June 18.  A number will be randomly selected from all entries, and the person whose comment falls on that number will be our winner.  I will contact the winner by email to request their mailing address, and the gift certificate will be sent to them by Lilla Rose.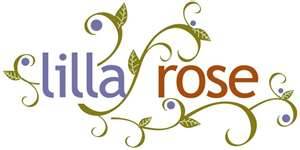 Sounds fun, right?  So let the comments begin, be sure and tell your friends to sign up to win, and keep on the lookout for more great giveaways coming up in the days ahead!