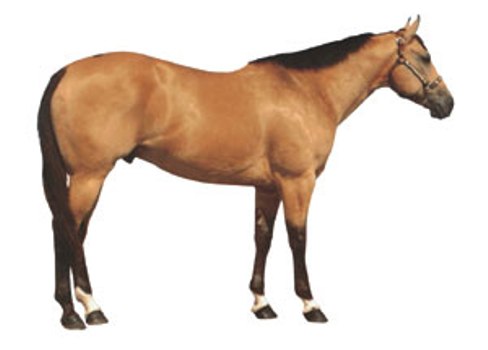 What is it about color on a horse that makes it worth double the price? Right now, Cowboy Dad and I are looking at buying a really flashy buckskin mare. She is not registered or well-trained, hasn't been ridden in over a year, doesn't neck-rein, and the owners can't ride her anymore due to health reasons. But they're set firm on her price, simply because of her color.
In order to buy a horse, I put my own horse Daisy up for sale. I put her photo on about five different horse classified websites and set her price considerably lower than the mare I'm wanting to buy. Daisy is registered with good old foundation Quarter Horse bloodlines, has a pretty good foundation with the basics of riding and trail riding ability. Her conformation is beautiful, and she would throw really nice colts if someone chose to breed her. But she is sorrel.
It is only when you get into the performance world that color doesn't matter so much. Some of the best horses in the world have been the plainest colored. And with training and more riding, I'm sure Daisy would be worth about twice what I'm asking for her. But it is ridiculous that color alone can be a marketing factor when it comes to selling horses.
We looked at a registered AQHA yearling filly a few weeks ago. She was a pretty buckskin with good bloodlines and a sweet face. After talking price with the seller, my husband and I talked quietly for a moment. I told him that we ought to just buy her, because –barring accidents and injuries– she would never be worth any less than the asking price, based on her color and conformation alone. We ended up being a little slow in our final decision and she was sold that weekend to someone else. But I still think it would have been a solid investment because even if her disposition and trainability didn't pan out quite like we wanted, her color would never change and there would be some idiot out there who would buy her in spite of her attitude just because she looked pretty.
And that's the main reason I'm sitting back and thinking about this color thing. I have to admit that I'm drawn to the gold and black, and Cowboy Dad has always wanted a buckskin. But I don't want to be that idiot that paid full price for a poorly-trained horse because of its shiny wrapper. It is a quandary I am in.