My Horses
These are the horses that I currently own, with a little description on each one. Each has its own individual personality and characteristics, and we have different goals and plans for each of them. I consider them family members and love them in spite of their shortcomings, as any fault one of them may have is usually just a reflection on my horse training ability.
---
Daisy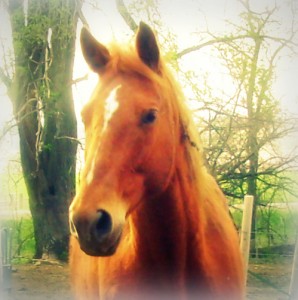 A Registered Quarter Horse sorrel mare, Daisy is my own horse.  When Cowboy Dad and I were dating, we got to talking about buying a horse.  I was horseless at the time and really feeling the void, and Cowboy Dad was sweet enough to suggest we buy one and keep it at his folks' farm.  We looked around on various horse classified websites for horses for sale in our area, and found a seller nearby. He was selling a different mare, but we picked out Daisy in his herd and made him an offer.
I remember the first time I rode Daisy, I had her in the round pen and had worked with her a couple times with saddling and groundwork.  She had been ground driven some, and I figured I'd just go ahead and get on her.  She was fine, acted like she'd been ridden before even!  I rode her a few times, and then we went on a ride down towards the river.  There was another horse with us, and he spooked one time, but Daisy didn't even flinch.  I was certain she would be a great horse!
Not too long after that, Daisy and I were riding alone, and she decided she didn't want to leave the other horses back at the barn, and threw a fit.  She ended up bucking me off over her head, right in front of my mother-in-law.  This gave my mother-in-law a poor opinion of Daisy, but between Daisy and I we have a mutual agreement of putting up with each other now, and we have gotten along just fine. I don't cater to her wishes when riding, but I do know not to push her too far because she can buck! I have had a lot of great rides on Daisy, and each time I ride her I think we both learn from it. She has gotten much more trusting of me, and is more willing to leave the other horses and know that I'll take care of her and bring her safely home again so she doesn't need to worry.
What I love most about Daisy is her no-nonsense disposition. She is the most un-flighty horse I know! I have never had her spook at anything, or resist crossing mud or stepping over logs, she will take any trail with no fuss. Traffic doesn't spook her, dogs are boring, and even a deer or bunny rabbit doesn't get a reaction from her. She's really fun to ride. I've been using her quite a bit lately to gather and move cattle, and I think she has a lot of potential in that.
Daisy has been a "one woman" horse so far. I've had a few potential buyers come look at her, and I think perhaps she doesn't care for men too much, because when the guy stepped into the saddle she stiffened up and looked so disagreeable and uncomfortable that he said, "Uh, we better not push our luck here." And got back off. Makes me wonder, because I know she's never been handled roughly, but she just doesn't like men or feel comfortable around them. I've done all of her training myself, so maybe she just likes me, but my sisters have ridden her bareback and she's just fine, and our four-year-old daughter rides her on a lead line, and Daisy basically goes to sleep with our daughter riding her.
I think Daisy has huge potential and sometimes I feel bad that I'm not into show or rodeo. She's a good family horse for us, but I would love to see what she could really do! Here are a few photos of Daisy:


---
Milo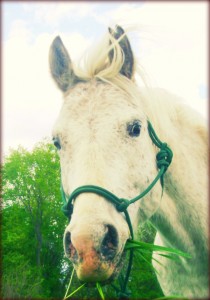 I think most people would refer to Milo as a rescue.  The winter after we were married, Cowboy Dad and I went to a horse auction (by the way, those are dangerous to attend if you can't keep your hands in your pockets!) and walked around through the sale pens before the sale. We spotted a pen full of scruffy weanlings, some smutty buckskins, and while looking at them, a little silver nose appeared out from under one of the bigger colt's bellies. We moved the bunch around a little and found a cute little silver colored weanling whose worst faults were stunted growth from being pushed back from the feed by the bigger colts and a weird fuzzy white stripe on top of his black tail. He looked like a little skunk!

He was Appaloosa crossed with something, we think maybe Quarter Horse or Arabian. We decided to bid on him, and agreed to only spend $100. The bigger buckskins sold for about $60. Then this little skunk colt ran in and the bidding went up. We got the winning bid at $120. Not even planning to buy a horse at the sale, we hadn't brought a trailer, so we made arrangements with the sale barn to leave him overnight. The next day it took a little coaxing to get a halter on him, but he was worried at being alone in the dark stall of the empty sale barn, and I think our arrival was a little relieving to him. We got him into the trailer without much more trouble.

We decided to name the skunk-colt Milo, since he looked like the horse on the cover of Louis L'Amour's western novel The Man From the Broken Hills in which the main character is named Milo Talon. Milo bonded with our mare Daisy instantly. She looked over him like he was her own foal, and they have been pretty inseparable ever since. That spring we discovered Milo had an umbilical hernia, so in true fashion with horses, he went from being a $120 horse to a $800 horse pretty quickly. The veterinarian did a fine job and he healed quickly.

We covered a few horse training basics with Milo such as haltering, leading, and gentling. It seemed like as soon as he discovered what feed was, he looked at us in a whole different light and became instantly gentle and nosy. We didn't saddle or ride him until half way through his three year old year, since he was really small still and has the conformational fault of long pasterns. We wanted to be certain he was strong and sound enough before we got on his back.

My husband was the first one to ride him, since originally Milo was to be his horse. After a few rides, the training fell mostly to me, and I didn't get a whole lot of rides put on him initially. Milo is very calm and gentle, turns out to have a sweet rocking horse canter and a springy trot, which is a result of those long pasterns. He would make an ideal kid's horse, due to his size (he stands around 14 hands I think), and is best suited to trails unless we put some more training into him. We ride him mainly for fun, when our family goes riding together, and he is a great little horse.

---
Cricket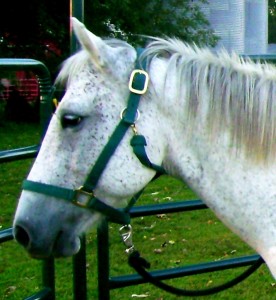 We bought Cricket in the summer of 2006, since my husband wanted to have a good well-broke horse to learn on. She was listed for sale on a horse website, and we drove down to Missouri to look at her. Turns out she belonged to a five year old girl, and just wasn't fast enough for the little girl—she wanted to be a barrel racer like her mom, and Cricket didn't like arena work and was too slow. She sounded perfect for us!

I remember riding her for the first time, it made me feel like a kid again. Just jumped on her bareback with a halter and rode around this Missouri farm trying out her gaits and seeing how well she handled. My husband rode her in the arena under saddle, and she exhibited everything we needed in a "husband horse". So we bought her. I remember they tried to sell us their goat, too, but thankfully we left him in Missouri.

Cricket has been wonderful, she is the horse everyone rides. Our daughter has really enjoyed learning to ride on her, and many lazy summer days when the horses are out grazing and I'm working in the garden nearby, I'll set our little girl on Cricket's back and she will talk and sing while Cricket grazes happily. Those are the best days in the world.

We have used Cricket to work cattle around our farm, and I think she knows her stuff, but is in retirement mode. She just really doesn't have a high gear when you need one. We bought her as grade, and hoped that she was around twelve when we bought her. Our vet thought she could be anywhere from 15 to 20, so we're just happy that she is healthy and sound and willing to be our family horse. She's worth every penny we paid for her, and more.