My Horses
These are the horses that I currently own, with a little description on each one. Each has its own individual personality and characteristics, and we have different goals and plans for each of them. I consider them family members and love them in spite of their shortcomings, as any fault one of them may have is usually just a reflection on my horse training ability.
---
Daisy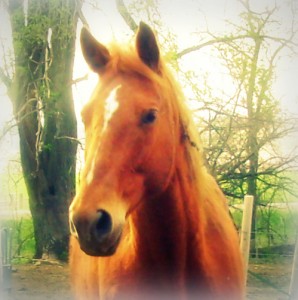 Daisy is a Registered Quarter Horse with the name Poco Blackburn Madie.  When Cowboy Dad and I were dating, we got to talking about buying a horse.  I was horseless at the time and really feeling the void, and Cowboy Dad was sweet enough to suggest we buy one and keep it at his folks' farm.  We looked around on various horse classified websites for horses for sale in our area, and found a seller nearby. He was selling a different mare, but we picked out Daisy in his herd and made him an offer.
I remember the first time I rode Daisy, I had her in the round pen and had worked with her a couple times with saddling and groundwork.  She had been ground driven some, and I figured I'd just go ahead and get on her.  She was fine, acted like she'd been ridden before even!  I rode her a few times, and then we went on a ride down towards the river.  There was another horse with us, and he spooked one time, but Daisy didn't even flinch.  I was certain she would be a great horse!
Not too long after that, Daisy and I were riding alone, and she decided she didn't want to leave the other horses back at the barn, and threw a fit.  She ended up bucking me off over her head, right in front of my mother-in-law.  This gave my mother-in-law a poor opinion of Daisy, but between Daisy and I we have a mutual agreement of putting up with each other now, and we have gotten along just fine. I don't cater to her wishes when riding, but I do know not to push her too far because she can buck! I have had a lot of great rides on Daisy, and each time I ride her I think we both learn from it. She has gotten much more trusting of me, and is more willing to leave the other horses and know that I'll take care of her and bring her safely home again so she doesn't need to worry.
What I love most about Daisy is her no-nonsense disposition. She is the most un-flighty horse I know! I have never had her spook at anything, or resist crossing mud or stepping over logs, she will take any trail with no fuss. Traffic doesn't spook her, dogs are boring, and even a deer or bunny rabbit doesn't get a reaction from her. She's really fun to ride. I've been using her quite a bit lately to gather and move cattle, and I think she has a lot of potential in that.
Daisy has been a "one woman" horse so far. I've had a few potential buyers come look at her, and I think perhaps she doesn't care for men too much, because when the guy stepped into the saddle she stiffened up and looked so disagreeable and uncomfortable that he said, "Uh, we better not push our luck here." And got back off. Makes me wonder, because I know she's never been handled roughly, but she just doesn't like men or feel comfortable around them. I've done all of her training myself, so maybe she just likes me, but my sisters have ridden her bareback and she's just fine, and our four-year-old daughter rides her on a lead line, and Daisy basically goes to sleep with our daughter riding her.
I think Daisy has huge potential and sometimes I feel bad that I'm not into show or rodeo. She's a good family horse for us, but I would love to see what she could really do! Here are a few photos of Daisy:


---
Penny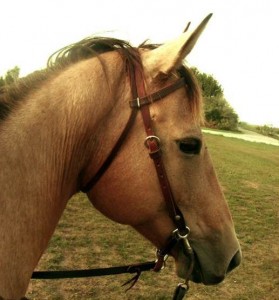 We bought Penny on September 13, 2011 with her baby at her side.  She is a 2003 model, beautiful golden bucksin, with a nondescript AQHA pedigree (her registered name is Command A Cowgirl) and a very sweet attitude.  When we first brought her home, she was a little standoffish, but over time she has become comfortable with us, and now walks right up to us when we arrive at the barn. 
The woman we bought her from had not owned her long, and had intended to ride her but was expecting a baby and didn't want to take chances.  So we bought her as "maybe broke", and I just saddled her up and started riding her.  Other than being new to the bit and mouthing a lot, Penny behaved just fine.  She has never spooked at anything, is very comfortable under saddle, and is such an easy and respectful horse to handle on the ground.  Penny quickly became my favorite, not so much because of her gorgeous coloring, but rather because she has beautiful manners and is a very sweet horse.
I have ridden her on many long trail rides, and she is good to take out alone or with other horses she's never met before.  If she has a vice, it would be that she does not like to stand still.  So we are working on that just a little.  But she handles so nicely on the ground, and trailers well, steps in, backs out, stands tied, not fussy, just a really sweet little mare.  I would like to try her on cattle work and see what she knows.  I think that she originated in Texas and was brought north to Iowa to be crossed with a buckskin stallion named Cooked To Par, by Cooke County Etc.  She is branded on the left hip with a Circle P freeze brand, from her prior owners.  
Here is Penny's pedigree: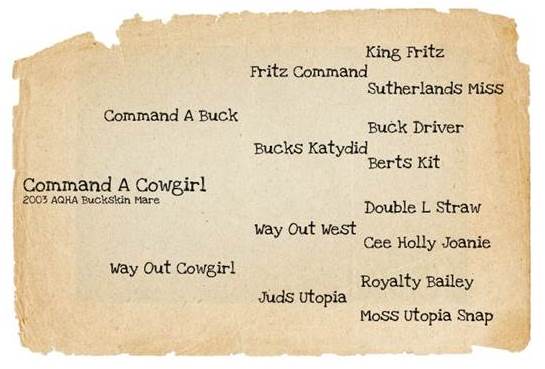 When I rode her for the first time, I wondered about her history and wished she could tell her story.  Because of her calm acceptance of everything we've tried with her, I imagined that she was raised on a horse ranch in Texas, trained to ride and maybe even worked quite a bit as a three or four year old.  Then she was probably sold at auction and brought to Iowa as a broodmare.  We don't plan on breeding her, because we're just thrilled that we got a good riding horse out of the deal!
We named her Penny because she's shiny, has a Circle P on her hip, and is as pretty as the blonde girl named Penny on the tv show The Big Bang Theory.

---
Cletus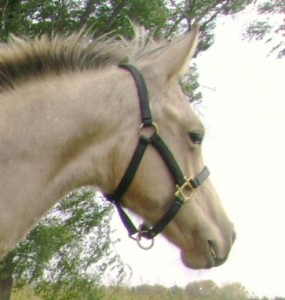 When we bought Penny, she had a baby buttermilk buckskin stallion at her side. While I was enthralled with the mare, my husband Chris was more interested in this little guy. He did a lot of the gentling and halter training. We worked with his hooves a lot, and getting in and out of the trailer while he was very little, in hopes that he would always be comfortable with general day to day handling. We never could come up with a name for him, though we registered him with the American Quarter Horse Association under the name of Cooke Commander (his sire is Cooked to Par, his dam is Command A Cowgirl).
My husband's brother started calling the colt "Cletus", and we never did come up with any better name for him, so the poor guy is stuck with it. It kind of suits him, however. He is pretty easygoing, but has gotten into some dumb situations. Once he laid down next to the fence, and must have rolled or kicked while he slept, then tried to stand up while under the fence….so he had some scratches on his back from that, but he lived through it. Another time, the horses were out grazing, and we put his mother back in the pen first, and Cletus got worried and was running around looking for her, and just jumped right over the fence to get back in the pen with her. I'm hoping that he matures a little bit and gets some smarts to go with those long legs of his.
Cletus is a happy colt. And why wouldn't he be—he has a band of four mares to run with (he was gelded as a weanling, but still thinks he is king of the corral), his mom is always within a tail's swish distance, and nothing much has been asked of him so far. We do plan to start training him under saddle soon, as he is big enough for light riders and needs to get started on the education that will hopefully turn him into a good riding horse in the future.

---
Bluebird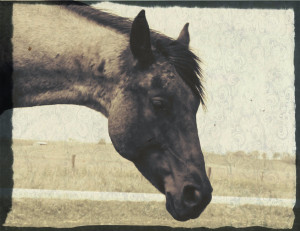 This pretty blue roan mare was born on the Three Bars Ranch of Keith Munns Quarter Horses in Rexburg, Idaho. My parents bought her for my sister Karmen, when the filly was just a yearling. They bought an unrelated blue roan stallion and a weanling brown filly at the same sale, and planned to breed the pair of blue roans when they were at maturity. But the stallion didn't fit with their goals (he bucked when they started training him), and so they sold him back to the Three Bars Ranch. The blue roan filly they named Bluebird just grew up over the next four years, and they decided they needed to cut back on numbers so they offered her to me. I said, "Yes!"
So I lined up a shipper to haul her all the way out here to Iowa, and she arrived here in the spring of 2014.  She merged in well with our other horses, and is best friends with the boss horse, Daisy.  Bluebird is a beautiful blue roan color; she sheds off solid black in the spring, and gradually lightens to a roan through the year, ending up almost white in the winter.  She has two freeze brands—a Bar 3 on her right hip, and a 09 on her right hindquarter just next to the tail. She is registered with AQHA under the name Blue Susie Q, and is close to 16 hands…she is our tallest horse by far. 
Here is Bluebird's pedigree: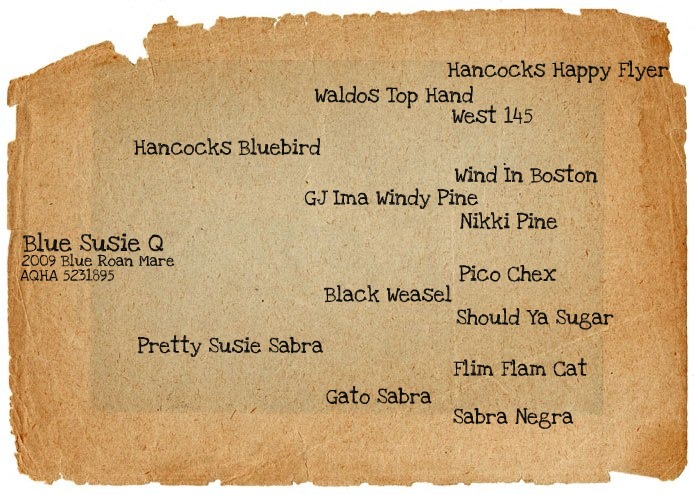 Bluebird has been saddled a few times, and ridden a couple of times by a trainer out in Idaho, but we haven't started working with her here, yet.  It is on my list of immediate goals, and hopefully I will have many happy stories about horse training sessions with this pretty mare.


---
Cricket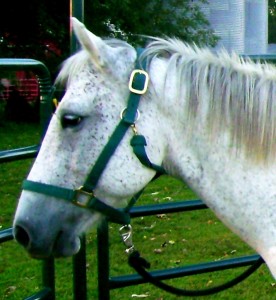 We bought Cricket in the summer of 2006, since my husband wanted to have a good well-broke horse to learn on. She was listed for sale on a horse website, and we drove down to Missouri to look at her. Turns out she belonged to a five year old girl, and just wasn't fast enough for the little girl—she wanted to be a barrel racer like her mom, and Cricket didn't like arena work and was too slow. She sounded perfect for us!
I remember riding her for the first time, it made me feel like a kid again. Just jumped on her bareback with a halter and rode around this Missouri farm trying out her gaits and seeing how well she handled. My husband rode her in the arena under saddle, and she exhibited everything we needed in a "husband horse". So we bought her. I remember they tried to sell us their goat, too, but thankfully we left him in Missouri.
Cricket has been wonderful, she is the horse everyone rides. Our daughter has really enjoyed learning to ride on her, and many lazy summer days when the horses are out grazing and I'm working in the garden nearby, I'll set our little girl on Cricket's back and she will talk and sing while Cricket grazes happily. Those are the best days in the world.
We have used Cricket to work cattle around our farm, and I think she knows her stuff, but is in retirement mode. She just really doesn't have a high gear when you need one. We bought her as grade, and hoped that she was around twelve when we bought her. Our vet thought she could be anywhere from 15 to 20, so we're just happy that she is healthy and sound and willing to be our family horse. She's worth every penny we paid for her, and more.