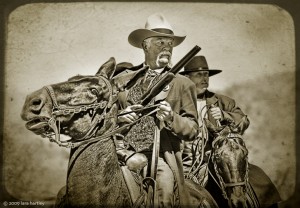 Most of us horse lovers have been inspired by horses and riders in the movies at one point or another.  Whether it was growing up watching Bonanza or seeing Wild Hearts Can't Be Broken for the first time, those horses and the people who rode them made a big impact on us and deepened our interest in becoming a rider or owning our own horse someday.  There are just a few things that have crossed my mind when watching some of the Hollywood-style riding, and I wanted to comment for the benefit of the total beginning horse enthusiast.
I grew up on a ranch, and we often had guests come to visit and we always offered to take them riding, as that was one of the most enjoyable activities to do in our neck of the woods.  We would explain the basic mechanics of riding to our guests:  hold the reins, neck rein left or right, squeeze legs for forward, pull reins for whoa, and such.  Often getting them into the saddle was the biggest challenge, and no one thought to tell them how to dismount, as it seemed to be an easy thing to do.  But inevitably after the ride, the guest would ride the horse to its automatic stopping place near the barn, drop the reins on the ground, and proceed to "swing down" Hollywood-style, leaving their left foot in the stirrup as they dropped to the ground, proceeding to stagger off balance by their foot still being caught up in the stirrup, and had it not been for the patience of the horse who stood there waiting for them to right themselves, they could have been jerked off their feet and badly hurt.   
After observing a few of these scary attempts at dismounting, I began to reconsider the safety of the swing-down.  I started telling guests beforehand the correct (and safest) way to dismount:
1.  Keep your reins in your left hand throughout the process.  Leaving your horse's head free could result in him wandering, spooking, breaking reins, or hurting someone. 
2.  Remove both feet from the stirrups.  You are safer not being connected to the saddle in any way.
3.  Lean forward and put most of your weight on your arms on the front of the saddle as you bring your right leg over the back of the saddle (careful not to kick the horse, but usually a sliding motion over his hindquarters is just fine).  Drop both feet to the ground simultaneously, as you slide free of the horse.
I have been drug by a horse when my foot turned in the stirrup and stuck, and this was when I was trying to dismount.  So though my advice might not be fashionable, it is the safest way to get off of a horse.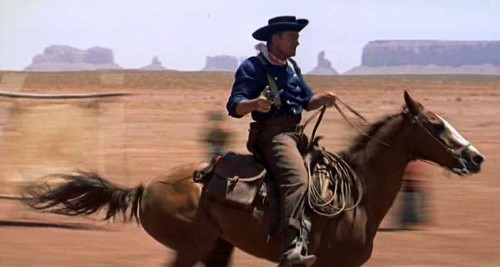 Another Hollywood horsemanship no-no is running your horse everywhere.  Have you ever noticed that in the old black and white westerns, the horses never walked?  It would be full gallop up to the saloon door, a few choice words with the gunman standing there, a quickly fired shot, and then gallop off full tilt again.  Those poor horses would have lasted about a half mile in real life, and then been ringing wet and worn out.  But every movie horse was sparkling clean and rearing to go, and galloping through every frame as if his very life depended on it.
Kids and beginners gallop everywhere.  For a lot of first riders, it's like giving them a motorcycle and telling them they can't shift out of first gear….it gets boring after awhile!  But when you really understand a horse's psychological makeup, running a horse is a very bad practice.  Many a good horse was ruined by kids letting him run everywhere.  I saw this first hand in my old gelding Rudy….my sister asked to ride him one time just to "see how fast he would go".  She made him run beyond his comfort level, and he has been a runaway ever since, spooking out of a regular working canter or even from a walk, into a full-blown panic-driven race that doesn't end until he reaches a fence or has nowhere else to run.  So don't run your horses.  A walk is much more mature, and will keep your horse in a healthy frame of mind.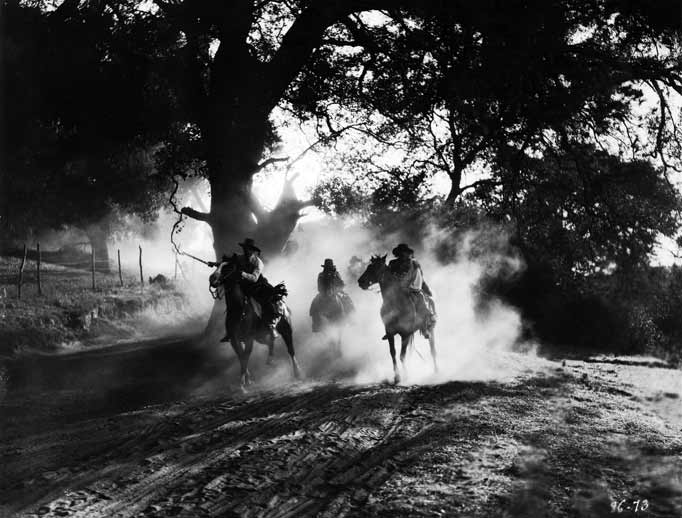 Another criticism of mine when watching riders in western movies is that they're constantly jerking the reins (if you've noticed the horse's mouth open as they spin around to gallop off in the opposite direction, the horse's mouth is open to avoid the bit pressure as the rider jerks on the reins).  Or they ride everywhere with their reins held too tightly.  This is often evidenced by the horse's head being held very high, and I often cringe for the horse's sake at the way they are ridden on set.
However, I have no criticisms at all of the actual horses of Hollywood.  They are the most highly trained, best performing actors of all, putting up with multiple riders, stunts, and giving all they've got, mostly at a dead run!  I love to watch horses on film, and I still get goosebumps watching the Black Stallion run along the shoreline or play tag with Alex on the beach.  It is only the riding that sometimes leaves me disappointed.  Not everyone needs to take riding lessons to know how to ride a horse, but some understanding and sympathy for the horse goes a long way towards becoming a good rider. 
It's a good life lesson—don't take every scene at a full gallop, and you'll be fine.