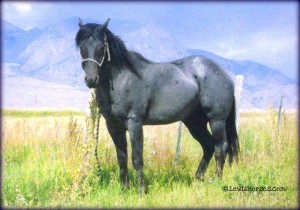 It's springtime, and babies are being born, and it makes me start wishing and hoping.  No, we don't have any expectant mares this year, but my folks out in Idaho have several mares that are bred to this Hancock bred blue roan stallion, Handmade Forever, for his first foal crop.  They purchased the stud colt and two fillies from Keith Munn's production sale two summers ago, and are really excited to see how this young stallion turns out.   I'm looking forward to lots of baby pictures and celebrating spring as it should be.
Cowboy Dad and I talk quite a bit about getting one of our mares bred someday, and I'm wondering if this is the year.  We have never had a foal, even though we have three mares now.  Our old gray mare Cricket is not the breeding kind, being grade and who knows how old!  Our sorrel mare Daisy had been exposed to a stud as a four year old when we first bought her, but it was a pasture-breeding type of deal, and she didn't turn up pregnant.  For several years, I figured I should ride and train her first, before letting her be a mommy, and then the more I was around her, I just didn't figure her worthy of foaling.  I wouldn't say she has a bad disposition, but she often shows blatant disregard for a person handling her from the ground, and has shown a huge aptitude to buck with any man that's ever tried to ride her.  So we've never had Daisy bred.
But now we own our sweet buckskin mare, Command A Cowgirl, and there is no reason on earth why she shouldn't reproduce again.  She is young, beautiful, quiet-tempered, a proven broodmare with a good colt from last year, and has had a year off to recoup and be in perfect condition to foal again.  Her foal would be easily marketable, even in this bad horse economy, if we decided to sell it later on.  But we would plan to raise and train it and keep it, or sell it as a broke horse.  The stud colt we bought at her side is showing a lot of promise as being very gentle, easy to handle (he let me trim all four feet with no trouble at all!), and is going to be a big glossy buckskin gelding by this summer.  This is the buckskin mare's sire, Command A Buck: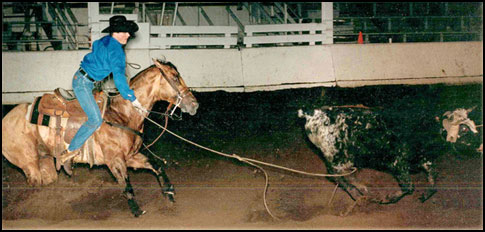 So all that to say that I'm stallion shopping.  I'm looking for a registered Quarter Horse stallion, preferably buckskin or palomino, with a good disposition and proven rideability.  I'm not set on him having a show record, as I never intend to show and I don't care to pay the breeding fee that normally accompanies a stellar performance record.  I love the good using horse bloodlines such as Two Eyed Jack and Doc Bar…I like some Thoroughbred in the mix, to streamline out the old bulldog Quarter build.  Just like I grew up with:  Two Eyed Jack crossed on Three Bars mares = best ranch horses ever!
I'll keep you posted on what we come up with, and if anyone has any suggestions for good stallions in this area (Iowa/Nebraska), please let me know.  We've never had a mare bred before, and we don't know a lot of the horse breeders around here, so any advice is welcome!  I will also be searching through a lot of horse classifieds and see what stallions are being advertised this spring.
Also, if you've had a mare foal this spring, or are having one in the next month or two, send me an email and a photo of your recent foal. I'd love to make a blog post to share all the babies' pictures.