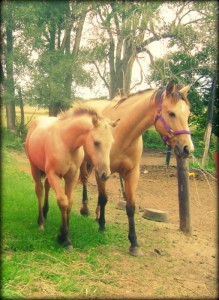 When we purchased our new horses a few weeks ago, we knew we would have some work to do to get the foal registered and the papers edited to show our ownership of the mare.  Whenever you're buying a horse, it's important to understand the registration process and what the requirements are for registering a horse.  Some horses just aren't registerable, and it's important to know the difference, because a horse that is registered has added value.  If you've never owned an American Quarter Horse and if you're unfamiliar with the application process, this blog post might be a help to you.  Since we are going through the registration process right now, I'll share with you the steps you have to take when you plan to register a horse with the American Quarter Horse Association.
When we paid the seller, she handed over the mare's registration papers and signed a simple Bill of Sale.  She didn't have a transfer form on hand, so we knew our paperwork wasn't complete, but since she seemed very open and honest, we told her we'd mail it to her later.  It should be noted that if your seller is not trustworthy, they could be conning you into paying a higher price for a horse they claim is registered, but if they don't have the papers on hand, or if they don't sign a transfer report at the time of purchase, you may find yourself with an unregisterable horse.  When you buy a horse, you need to be sure you get the horse's original registration papers (check the description, color, and markings of the papers and make sure they match the horse) and a Transfer Report that is signed and dated by the seller.  You can go to AQHA.com and find a printable Transfer Report and Application for Registration forms.  Then fill them out completely, and send them to AQHA with your payment.  There is even an online registration application, but I prefer the old standard paperwork, it seems more fool-proof.
I was unsure about proving ownership of the foal, since it had never been registered before.  So I called and spoke to a customer service representative at AQHA, who told me that I also need a signed Transfer Report for the foal.  Since the mare was bred when she was under different ownership, we also have to mail the foals Registration Application to the breeder for them to sign, as owners of both the sire and dam.  All of this needs to be completed before the foal is seven months old, or the price for the registration goes up.
As far as AQHA fees go, the membership fee alone is $40 per year, or you can buy a lifetime membership for $500.  Registering a foal under seven months is $25 for members, and the transfer fee per horse is $15.  So for a total of $55, we can get the job done, since we're already AQHA members.  But if you put off your paperwork, the prices go up drastically!
For a 7-12 month old horse, the fee is $50.  If you wait until the foal is a year old, it's $125 to register it.  If the colt is two years old, it costs $300.  A three year old costs $550 to register, and after a horse is four years old, it costs $1000 to register it, and requires parentage verification.  Wow….the $50 fee is enough motivation to keep me from procrastinating!  I had the papers in the mail the first week we had ownership.
But now I'm working on naming the foal, and it's not quite so easy.  You have up to six name choices to list on the application, they have to be 20 characters or less, including spaces.  And the name can't be the same as a previously registered horse.  I always prefer using a mixture of both the sire and dam's registered names, mostly from a sense of tradition, but also to indicate what bloodlines the colt possesses. 
Here is the stallion's pedigree: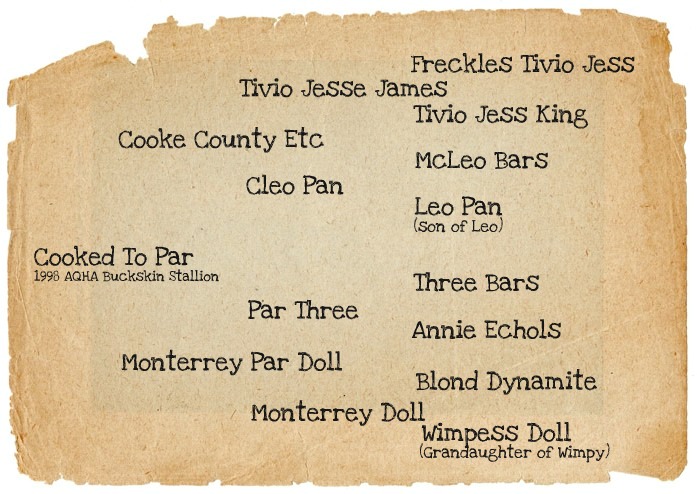 And this is the mare's pedigree: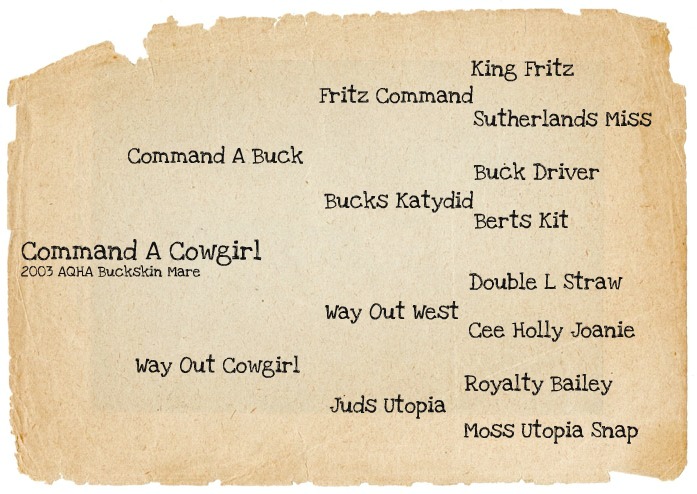 So here are some of our ideas to name the new colt:
Cooked To Command
Cooke County Command
Cooke County Cowboy
Cooke County Cowhand
Cookin Commander
Command A Cooke
Commander Cooke
Out West Etc
We would be thrilled to get more suggestions for a registered name for this little guy.  We also need barn names for both the mare and foal.  The mare went by "Katy" at her previous home, but we have a niece with that name and don't want to confuse our children.  So far they are answering to "Girl" and "Buddy", but they can't stay that way forever!  Please comment with your ideas, or visit CowgirlDiary's facebook page to easily leave your suggestions.
Here are more photos of them for inspiration: