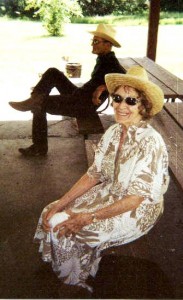 My grandma was an avid horse lover. Maybe not as horse crazy as I am, because she had too much work to do to spend any time on horses. But I think that horses were always on her mind. She had these songs that she would sing as she worked—pulling weeds, snapping beans, folding laundry, jiggling babies—she sang these little ditties:
"Pony boy, pony boy, won't you be my pony boy?
Marry me, carry me far across the sea…
Giddy-up, giddy-up, giddy-up whoa!
My pony boy."
"I had a little pony, his name was Dapple Grey.
I lent him to a lady to ride a mile away.
She whipped him and she lashed him,
And she rode him through the mire.
I would not lend my pony now
For all the ladies' hire."
"Hop, hop, hop, hop, hop—
Hop and never stop!
Where it's smooth and where it's stoney,
Trot along, my little pony.
We will never stop
When we go hop, hop!"
"Horsey, horsey, on your way
We've been travelin' for many a day,
So let your tail hang down
As the wheels go round
Giddy-up! We're homeward bound."
Grandma sang all of these songs, and many more, but it seemed that a lot of her songs were about horses. She told us stories too, and often spoke of horses in fond tones, usually referring to work horses used to plow or put up hay on the ranch when she was growing up or newly married. But in those days, nobody kept an animal as a pet—everything had a reason and a purpose, and the horses were no different. I know that there were many horses throughout the different phases of her life, but I'm not certain that she ever had a horse that she called her own.

Grandma had a very strong will and a hard work ethic; some might call it a cowgirl spirit. She grew up as one of twelve children on a farm in Nebraska, and in her early twenties, they moved west to Oregon, trying to survive the Great Depression. She went along, one of eighteen passengers on a makeshift flatbed truck with a cabin built onto the back. I have exerpts from her diary about that trip, and there was not one complaint from her, though they lived mainly on rabbits or fish they caught themselves. Hers was a very poor childhood—she knew what it was like to be a pioneer. I didn't really get to know her until she was in her eighties, but there are snippets from my childhood that stick out to me strongly. I remember that she had tall windows in her living room, framed by the most beautiful curtains made of horse fabric. She and my mom had sewed them, and I believe they are still there in her house to this day. Her furniture was also western themed, with wagon wheels as the end caps of her couch, and horses stitched into the leather chair backs. I also remember Grandma's beautifully manicured lawn around her house, and in the back she had a life-sized horse sculpture she had made out of chicken wire and cement. She always showed us photos of the real horses on the ranch coming up to sniff noses with her sculpture, and she always had a good chuckle as she told the story.
When the family arrived at their destination near Salem, Oregon, they began farming, some hiring out to other established farmers in the area, and others looking for work. Grandma could not find a job, and rather than contributing to the number of hungry mouths to feed around their table, she hitch-hiked all the way back to Nebraska, since she still had a valid teacher's license there, and knew she could find work. She taught in a one-room schoolhouse, and was considered an "old maid", being single in her twenties. I'm not sure of the exact details, but I heard her tell how she was in the schoolyard one day, and a dusty cowboy rode up on his horse and stopped to get a drink from the well near the schoolhouse. She said, "I'm going to marry that man." And she did!
They ranched for awhile in central Nebraska, and then purchased some land on Goose Creek in the Sandhills of Brown County. My grandpa hired a boy to help him drive the cattle north to the new ranch. Grandma drove the old farm truck with the children in it, arriving at the ranch a week or so ahead of the cattle herd. The truck broke down a few miles from the end of their journey, and they had to get help from a neighbor to bring them the rest of the way home. I have always admired the strength and bravery it took for her to take her young children to a new place without her husband to help her. But Grandma was like that…she knew how to make do.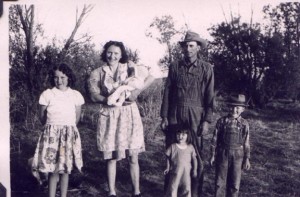 I remember as a kid, we would always ride our horses around bareback, and Grandma would come to the window and watch us, waving and smiling at us. This only fanned the flame of the show-off in us kids, and we would make our horses do tricks to impress her. Then she would come out on the step and yell at us to quit fooling around and behave. But you could tell she was proud of us, smiling behind her words.
Grandma would do anything for a laugh. She was good at telling stories, making them real with her dramatic faces and silly voice inflections. She loved all of us kids, and the hours we spent with her are without a doubt the most treasured of our lifetime. She is gone now, but I try to remember enough to pass the stories and the songs on to my own children.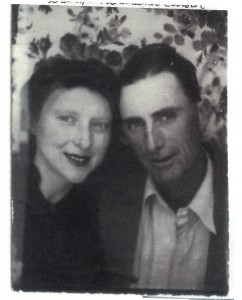 I often wonder what my life might have been like if Grandma hadn't had the strength and independence to make the choices she made. If she hadn't hitch-hiked her way back from Oregon to teach school and marry a rancher, I might be living in Seattle right now instead of rural Iowa….or worse yet, I might never have existed at all. One thing is certain: Grandma helped hone the cowgirl spirit in me, and if I didn't inherit her strength and independence, I at least got her hard work ethic. I don't know what kind of fool I'd be if it weren't for my Grandma, but I sincerely doubt that I'd be the horse crazy fool that I am.