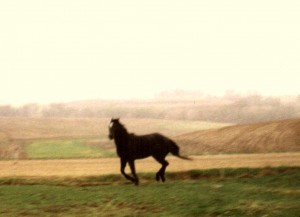 I received an email yesterday from a reader of my blog who wanted some advice and emotional support.  It seems she has been helping out at a rescue facility for some time, and has put so much of her heart into bonding with the horses and helping rehabilitate them, only to have to give them up when they are adopted out.  She really wants a horse of her own, but because of finances and her current situation, she hasn't been able to get one yet.
I wrote back a note of encouragement to her, but when I hit "reply", I got a message back saying that the reply I had sent was undeliverable. So there must have been something wrong with her email address, or some reason why my reply to her didn't go through. Kirsten, if you're reading this, please email me again. I would love to send you a personal reply.
I can really identify with a girl who needs a horse of her own.  I have been horseless for only short periods of my life, and one of those was when I was just out of college and starting my first job.  I taught second and third grades at a small Christian school in the middle of Iowa, sharing a small house in town with another single school teacher, and I found it very boring and lonely.  I really needed parts of my own life back, mainly the horses!
The father of one of my students mentioned that a neighbor lady of theirs was looking for a stable hand, and he thought since I loved horses I might be interested in the job.  So I got her phone number from him, called her up, and introduced myself.  She agreed to letting me keep a horse in her barn in exchange for mucking stalls and helping around the farm.  That alone was a good deal, since she only had 3 horses stalled, and I would have plenty of time every day after school to work with my own horse.  But the greatest part of all was that she was a six time world champion in the AQHA World show for trail and western pleasure.  I recognized it as an opportunity to learn from a pro.
I worked for Becky for about a year, and I learned so much from her about training horses and riding the right way.  I've never had a riding lesson in my life, but she'd give me tips when she saw I needed them.  I bought a 2 year old Quarter Pony gelding for a couple hundred dollars, named him Flint, and started riding him.  I remember holding the reins a little snug when I first got on him, hoping that he didn't buck me off.  After a turn or two around her indoor arena, Becky said, "Throw that kid some slack—your reins are way too tight!"  I loosened my grip, but said, "What if he bucks?"  I remember she just laughed, and said, "There's nothing that colt can do to you."  And I got this sudden feeling that she was right.
That feeling has stuck with me through the years, while putting the first rides on many different horses, and getting into the saddle for the first time, unsure of what might happen.  I always try to remember to loosen up on the horse's mouth a little, give him some slack in the reins, and ride with your seat more than your hands, and to have a confidence that helps keep you focused and in control of the horse.  Becky wanted a horse to be able to carry his head as low as was natural for him, and Flint turned out to be a fabulous trail pony because of her advice.  I rode him for just a month and sold him as fully trained and ready for a kid.  He went to an eight year old girl in Lincoln, Nebraska, and I am sure he fulfilled her dream of having a horse of her own.
Shortly after that, I purchased my own dream horse, a 2 year old black AQHA gelding with cutting bloodlines.  He cost about ten times as much as my little Quarter pony, but I felt I had worked hard enough that I deserved a better horse.  I kept him at an acreage out in the country, bought my own electric fence charger, built a fence for him, and bought my hay from a local farmer.  It really didn't matter that I had no real resources of my own, as everything I needed for horse ownership was within reach, I had but to pay for it.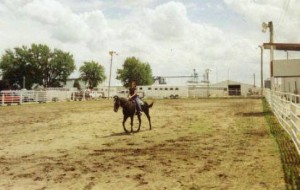 My life was simple back then.  I had a full time job that paid just $10k a year, but it also provided my housing, and I owned an old car with high miles but a good engine, and I didn't have any payments to make on anything.  So I taught school and played with my horses (yes, I bought another one!) and I was pretty satisfied with the arrangement.  I got so much enjoyment out of training my horses, and just spending time with them.  I often invited my students to come out and ride, and I loved helping them learn more about horses. 
So I know what it's like to want a horse of your own and work to find a way to make it happen.  My dreams have always revolved around horses, and whether it was saving my allowance money to buy a saddle or mucking out stalls to secure a spot for my horse to live, I was willing to do whatever it took.  My advice to all the horse loving girls out there who haven't yet gotten a horse of their own is to set attainable goals.  If you're too young to have a job, find ways to earn and save money for a horse later on.  If you can mow lawns, babysit, wash cars, bake cookies, clean houses, or run errands for friends and family, you can still earn money to save up for your horse fund.
Horses are a lot of work, and they take a lot of money to care for.  But there's a misconception out there that says you have to spend a lot on a horse.  I still have the saddle I had when I was a kid—I have never seen the need to buy a new one.  I haven't bought the latest tack gadget or matching colors in saddle pad, breast collar, and leg wraps for my horses.  I buy feed and pay for routine veterinary care, and that's really about it.  So I would also encourage young horse enthusiasts to cut down on their "horse wish list" to just the basics that are really necessary for owning a horse:  a halter, a saddle, a bridle, a water trough, fencing, shelter, and feed.  All the other doo-dads are unnecessary.
Another thing in your favor is the abundance of horses available for very low prices right now.  The best horse I ever bought cost me $300.  Don't think you have to buy the most expensive one.  Visit local adoption centers and find out their requirements for horse ownership.  Some rescues will even waive the adoption fee if they are certain that the horse is going to a great home where it will receive excellent care.  If you get the word out that you're looking for a horse, you might find some local trainers that will help you work with your horse and give you advice in exchange for you cleaning stalls or working at their barn.  Work to create a network of horse people in your area that you know personally, and try to spend time with as many of them as you can.  You never know what you might be able to learn from someone.
And that's my advice for the horse-hungry people of the world.  You have to make it happen, and find a way to change your situation to make horse ownership a part of your life.  Kirsten, I wish you the best of luck—I hope you stick to your dream and keep working towards getting a horse of your own, even if it doesn't happen until a little bit futher down the road.  You will learn so much from the horses in your life, so don't give up on the rescues.  They need you as much as you need them.